A traffic means to Kenpukuji.
---
When it goes by train.
First,it goes to Koriyama station with each one's traffic means.
Then,it transfers from there in Banetsu west line, and gets off to Aizuwakamatsu.
How to go to Kenpuykuji from Aizuwakamatsu station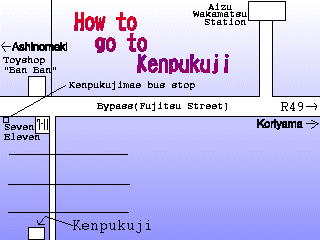 Map 1
In the case of the taxi
Most drivers understand that it says "I want to go for Kenpukuji.", and it goes there.
You are to draw the map of stating in a separate paragraph for the time which if it doesn't know and move it print it out,and take it.
In the case of the bus
It riden on a "city 3 courses" from No.2 station of Aizuwakamatsu station terminal bus station.
A bus is coming out for about 20 minuts in the interval.A charge is 250 yen.
If a road isn't crowded,it reaches about 10 minuts.
Then,it gets off at the 10th stop "Kenpukujimae". Refer to a map for the way of going from here.

---

When it goes by car
When an expressway is used First,itaims for koriyama JCT from each one's starting point. Banetsu goes from koriyama JCT into the automatic roadway. It proceeds in Nigata direction,and gets off an expressway by aizuwakamatsu IC. Face Nigata direction in Koriyama,the case from iwaki direction. Then,turn halfway left in Ashinomaki direction. Face Koriyama,Iwaki direction in the case from Nigata direction. Then turn halfway right in Ashinomaki direction. It goes straight as it is, and turns left at SevenEleven Odabashi store. When it goes straight, there is Kenpukuji. Refer to the map of stating in a separate paragraph for the details. When a national route is used First,aim at Route 49 from each one's starting point. Then,face Nigata direction. Turn halfway left in ashinomaki direction. Go straight, and turn left at the SevenEleven Odabashi store. When it goes straight as it is,there is Kenpukuji. Refer to the map of stating in a separate paragraph for the ditails. Return to Title